Birthdays are quite specific celebrations and so birthday decorations require a rich offer with a distinctly individual approach, including absolutely all ages – from birthdays for children, 18th birthdays, to birthdays for adults. Arkadia has created a program whose quality stands out and makes us a leader in this field. Our happy clients motivate us to further improve and keep up with trends daily, aligning them with your wishes.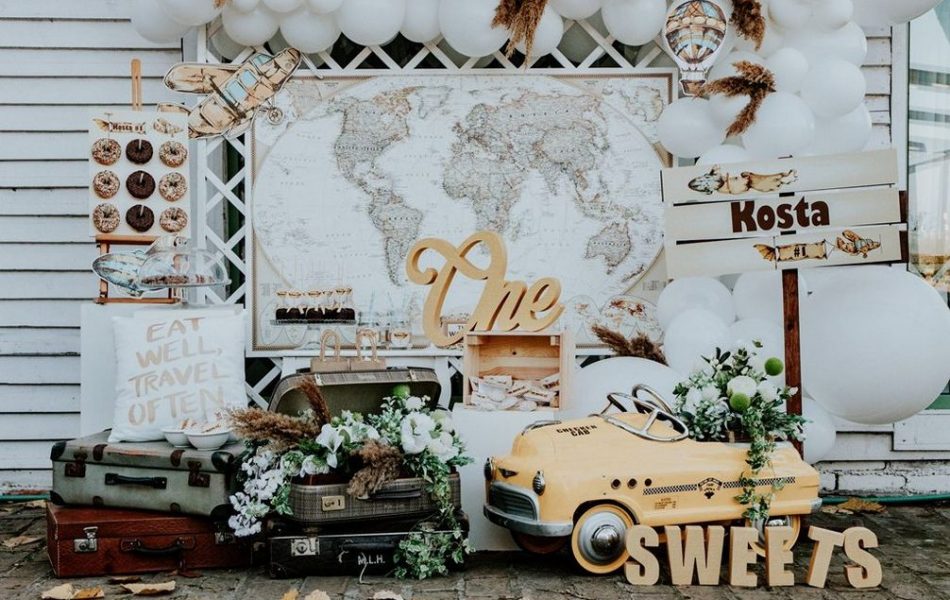 Kids Birthday Decorations
The decoration of birthdays for children is becoming increasingly imaginative, and the little ones enjoy the details and enthusiastically embrace the creative space they share with their friends.
Posebnu pažnju posvećujemo otkrivanju okoline, novih reči i koraka koje delimo povodom prvog rođendana, a svaki naredni podrazumeva novu bajku i radost. Kutak za igru koji dekorišemo odiše čarolijom sadrži atraktivne figurice, motive iz omiljenih crtaća, animaciju u vidu trakica, šljokica i konfeta, uvek omiljene detalje poput personalizovanih čokoladica, vode i sokića, uz nezaboravni, originalni dizajn kutijica za grickalice i stalka za krofne.
Ne zaboravljamo – iznad svih neočekivanih trenutaka koje donosi odrastanje svakog deteta stoji snaga roditeljske ljubavi!
18th Birthday Decorations
Prema zahtevima i elementima dekora, 18. rođendani približili su se najvećim slavljima poput svadbi. Punoletstvo označava početnu fazu zrelosti, a samim tim i potpuno novi fokus u skladu dekorativnih detalja i želja koje donosi nova energija.
Whether your choice is a themed celebration or a simpler combination of décor elements, the importance of color and style as symbols of one's character must not be forgotten. Badges, messages bracelets, a photo corner… Everything can be personalized to the smallest detail and give a special touch to the moments we share with our loved ones.
Arkadia je tu da kompletan dizajn uskladi sa idejama i prostorom koji ste izabrali, kreirajući originalni svet po kom će vaše punoletstvo uz dobro raspoloženje gostiju biti veličanstveno i zauvek upamćeno!
Adult Birthday Decorations
I kako smo svakom proslavom rođendana malo veće dete nego prethodne godine, detalji koji se vezuju za rođendane mališana ili proslavu punoletstva sada mogu stvoriti idealnu kombinaciju, a svi novi motivi dobrodošli su kao "začin" koji će nas podsetiti da smo bogatiji za nova iskustva.
Our task is to adapt to you and follow your dreams! Stylists, graphic designers, event designers and decorators and other professionals in our team will design even the smallest detail for a unique experience and maximum enjoyment using the most innovative equipment. The euphoria of surprises, cards and gifts definitely doesn't care about age!
Planirate proslavu rođendana? Pozovite nas za ideje i bogatu ponudu!
Bilo da je reč o organizaciji ili dekoraciji, garanciju kvaliteta realizacije koju sprovodi naš tim potvrdili su mnogi zadovoljni klijenti. Kreirajmo zajedno vaše nezaboravne trenutke!
Check out birthday decorations we made