Celebrating your company's anniversary is essential for any business. Any type of conference requires you to accommodate your partners at the highest standards. Important clients deserve your attention and gratitude for their many years of loyalty. Finally, nobody objects to the prospect of a fun party at the end of a successful business year.
We have handled all kinds of events, from celebrations, conferences, team buildings, fashion shows, competitions, live streaming, hiring anchors, red carpet events…. By hiring our professional team you save time and money. We specialize in putting your ideas into action, and we make the most out of your budget.
Among our many successful events, the most notable one would be the Strauss Coffee conference , with over 100 attendees taking part in five different segments in a single day, such as workshops with presentations, a Barista show, lunch, Cupping competition, guest entertainment, dinner with live music…
We convey our client's experience in its entirety:
Dear Gabi, Dear Kaca,
Once more, thank you so much for making Strauss Coffee event a great
success !
Your excellent professionalism and in particular your personal
attitude is unique. All expressed their appreciation for the
organization, food and whole day atmosphere.
It was a great pleasure working with you and hope we will work
together again on other project in future.
Thank you and warm greetings….
Corporate events and how we define them?
At the very mention of corporate events, people most often think of those that celebrate business successes. There are also New Year's corporate celebrations, company anniversaries, visits from foreign partners, awarding ceremonies… In our efforts to provide the very best for your company, employees, associates and clients, we create a detailed protocol, design original gifts and make sure your company is seen in the best light. Our creative team consists of six people who only handle event planning, seven decorators, three designers and many more assemblers and florists. There is no doubt that, when you choose us, you will get the best possible support in representing your company, along with guaranteed efficiency and responsibility, without having to compromise with quality. This is the ideal way to stand out from the competition!
No event can be fully successful unless you know every detail of its concept. We strive to be innovative and come up with fresh ideas that your guests, employees or clients have never seen before, hoping to create an unforgettable event.
Having in mind the agreed upon theme, we will find a venue that accommodates your ideas, planned number of guests, structure and budget. The venues we often use include hotels, restaurants, event centers, open door concepts, villas, houses with swimming pools, isolated farms, specialized venues for conferences, trade shows or outdoor venues…
The overall guest experience very much depends on the staff working the event, because they're the ones guests have the most contact with. The professionals in our team, complete with an appropriate dress code and knowledge of foreign languages, will fully respond to the high standards you have set over the years.
Every idea serves as a foundation for an original creation made by our design team on any type of printed material.
We cooperate only with well-established catering companies that can respond to the most complicated of requests, offer cuisines from all over the world, represent our country in the best possible way, and respond to your desired style… We now have a Michelin chef who can create a unique dish and present a completely new concept to your guests.
"Guest first" is not a sentence we use only as a phrase we've heard so many times. We finish the job only after each guest leaves the event satisfied, full of impressions and positive energy. 
Our many years of experience in decorating the most diverse private and business celebrations, an extensive range of decorative elements and equipment, as well as a team of experienced professionals in decorating, are a guarantee that we can make all of your ideas come to life. Decorations can be specifically designed for a thematic event (New Year, company day, celebration for the children of your employees), they can be in line with the visual identity of the company (company anniversary, seminars, congresses, conferences), and they can also be something quite specific for the new product line you are launching, entering a new market or any other occasion you want to mark.
Do you also take part in the planning of the celebration?
Once we define the theme and the desired details, you can leave everything else to us. Unburdened clients have proven to be the best hosts for their guests and partners. Our business policy is to design projects by nurturing our clients' identities, while adapting to the needs of the market. Each planning segment includes the presentation of the program and ideas, after which we try to find the best option together.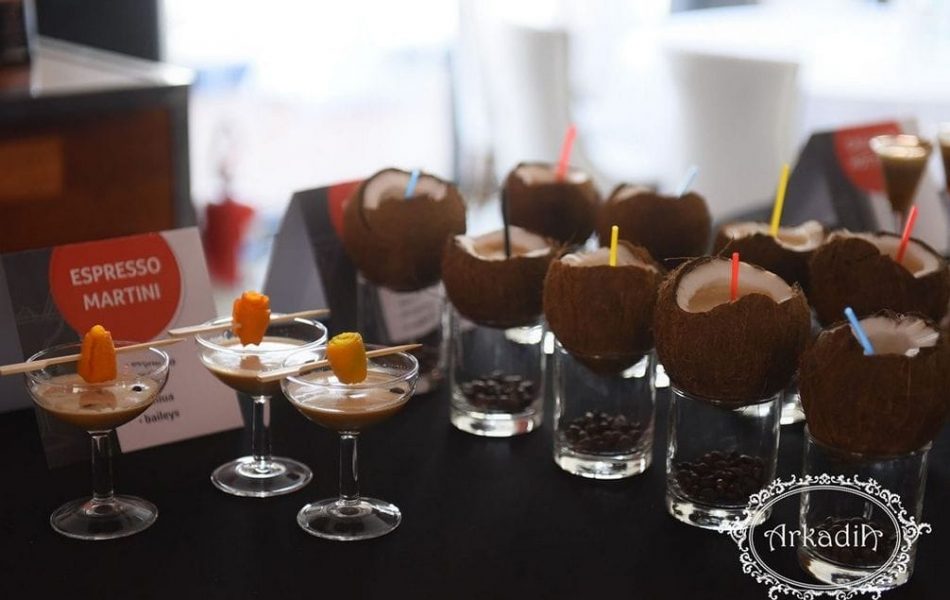 What does Arkadia's corporate event planning include?
Finding the right venue for the project in question
Designing a complete event protocol, from idea to realization
Arrangements with the venue for all necessary services and the hiring of external associates for all segments that the venue does not offer
Premium catering within the budget
Qualified and professional staff, hostesses, servers, drivers…
Invitation cards, mailing lists and deciding on the final guest list
Seating arrangements, standing arrangements, table layouts
Venue decoration in accordance with the company's norms
Personalized gifts for guests, clients, employees, associates…
Hiring entertainers or presenters
Finding the right band and complete entertainment program 
Choosing the best photographers and cameramen
Special effects, pyrotechnics, lighting and other segments
Event planning, coordination of all suppliers, budget monitoring…
Special benefits for corporate events
Special benefits are reserved for loyal clients and users of our services. If you are hiring us for the first time, the special conditions for decoration, gift and graphic design services are included when you entrust us with the planning of the entire event.
Gifts for clients or employees and corporate graphic design
Deo na koji smo ponosni je široka paleta poklona koju smo osmislili uz kvalitetan i jedinstven grafički dizajn. 
Gifts can be adapted for large events, for mass distribution, or they can be more valuable, intended for special occasions.

Some of the ideas that may be interesting…

● Various edible products from mini jars with the highest quality honey, candy bars, fortune cookies, cakes…
● Gift baskets – selection of confectionery products, wines, cheeses…
● Gift baskets with a selection of your products with marketing or corporate material
● Wines with personalized labels ( 0,2 – 0.7 l)
● Flower baskets
● Bouquets
● Bookmarkers
● Mugs
● Wrapping services for the gifts you bring
● Other "custom made" gifts according to your wishes