Business acumen is much more than simply running a business. Getting to know each other at a deeper level, building trust and understanding are at the heart of good Team building. Entertainment, shared activities, and a relaxed atmosphere go hand in hand, and it's up to you to choose your location, theme and duration.
Content creation, professional program customization, activities and hourly rates are some of our tasks. Also, team building depends on the structure of your team. We carefully plan activities according to each member's needs, so that none of your colleagues feel excluded.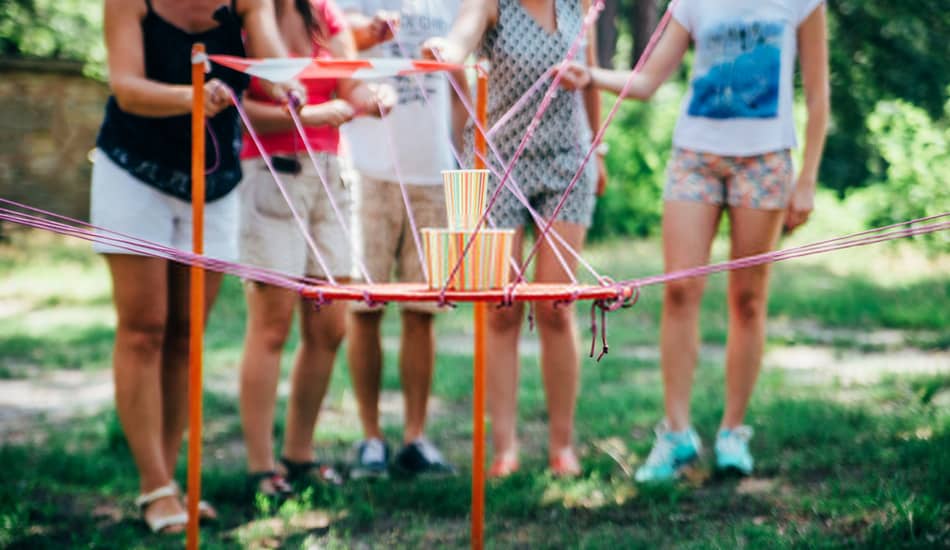 Kako i gde možemo organizovati team building?
Zašto je važnan odlazak van stalnog mesta boravka? Pre svega zbog privatnosti, različitih zahteva grupnih aktivnosti, što više dodatnog sadržaja koji možda nije dostupan u vašoj blizini, a najvažnije – zbog apsolutne upućenosti članova jednih na druge. Raznoliki sadržaji kreiraju se isključivo prema afinitetima vas i vaših kolega.
Sportski team buildinzi – biciklističke ture, nadmetanje u plivanju, vožnja, jahanje – sve ovo prijaće avanturističkom duhu. Mlađi kolektivi ističu da su im sportske aktivnosti od posebnog značaja jer za njih često nemaju vremena dok se trude da unaprede svoje karijere. Sportovi se biraju u zavisnosti od broja učesnika, godina, interesovanja i želja.
Umetnički team buildinzi spajaju obilje art tehnika kroz koje će se uspešno izraziti svaki pojedinac, a kolektivna svest biće jača zbog specijalnih aktivnosti namenjenih za rad u grupi. Crtanje mandala, fraktalne tehnike, zajedničko vajanje… Zvuči kreativno i zabavno? Ovaj vid team buildinga pogodan je za sva godišta, sve prostore i ne zavisi od godišnjeg doba.
Coaching team buliding podrazumeva organizovanje sadržaja uz pomoć kojih svaki pojedinac dobija priliku da radi na sebi, ali i da bolje razume procese grupe kojoj pripada. Rad se uglavnom odvija kroz razne eksperimente, a učestvovanje često zahteva verbalno izražavanje. Ovaj team building je idealan ukoliko vas interesuje psihologija komunikacije koja se uspešno može primeniti u radnom okruženju.
Night life team building podrazumevaju noćni, grupni provod, uz mogućnost organizacije raznih zabavnih sadrzaja (kviza, tombole, nagradne igre, plesnih ili drugih takmičenja). Imate dodatnu energiju koju želite da iskoristite isključivo u svrhu zabave? Ovaj team building je stvoren za vaš kolektiv!
Kulinarski team building možda neće napraviti od vas profesionalce u kuhinji, ali će svakako podržati vašu kreativnost i dosadašnje umeće, a sve to služiće dobroj zabavi i na kraju – magiji nezaboravnih ukusa koje ćete i nakon organizovanih aktivnosti želeti dalje da usavršavate.
Kombinovani team buildinzi najčešća su opcija, jer mnogi kolektivi ocenjuju da im je potreban kolažni program dodatnih aktivnosti kako bi se svaki pojedinac kroz bogatsvo sopstvene različitosti uklopio u određeni segment.
Team building organization - What do we offer?
Our team of professional organizers is in charge of proposing and implementing all aspects of your Team building. That includes:
Choice of location, organization of accommodation, meals, transportation and refreshments during breaks
Proposing activities and their required logistics, providing the materials and props
Professionals who lead the activities according to your wishes
Budgeting the complete event according to your capabilities and plans
What is the cost of a team building event?
The safest way to estimate the price of a Team building event is to determine what your maximum budget is, and then try to offer the best possible option within that budget. Taking into account the range of possibilities, we suggest you contact us and allow us to propose the content and activities tailor-made to your team and within the available budget.