Today, when symbolism has become very important and even the smallest detail conveys a message, a need for a professional approach to decoration arises, an approach that will undoubtedly play an important role in shaping every guest's impression. For this reason, a genuine commitment to decoration is of great importance, as we also refer to wedding decorations as "a wedding identity card."
Our newlyweds have confirmed the crucial role of the organizers' experience, just like the one Arkadia prides itself in, with the guarantee that the approach and offer will be fully aligned with our client's ideas.
We believe that openness in communication creates a successful cooperation. This is why our support is of such a comprehensive nature, including absolutely everything–from the richness of different styles to logistical possibilities.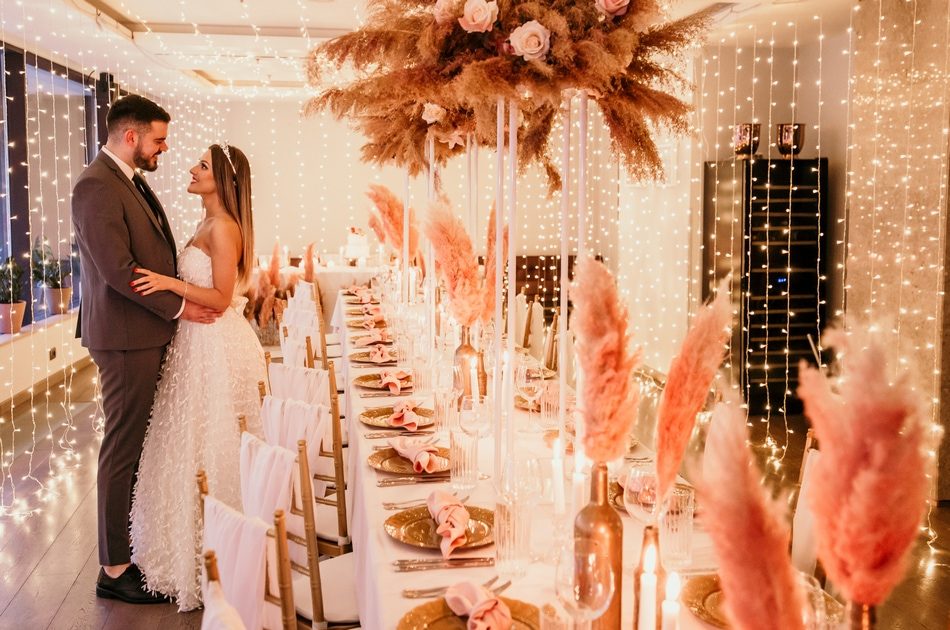 Perfectly combining your wishes and our team's professionalism, we have created an attractive system that includes the decoration of the head table, carefully selected background, details on tables and chairs for guests, reception chairs, photo corner, entrance, and we devote special attention to the podium as the central and most visible part of the venue. Equally important are the bridal bouquet, gifts for guests, corsages and boutonnieres for wedding guests, all the way to decorating the newlyweds' car.
A day that doesn't have a rerun requires a high level of responsibility, whether it's big weddings or intimate weddings. The level of commitment showed by each team member means we can and will adapt to the space itself and to different styles of decoration, some of them being rustic, traditional, retro, glamorous, elegant, boho, white, pastel, thematic, romantic, vintage, natural or golden…
The exciting process of decoration for weddings with a combination of elements has one goal – an element created by creative approach and exchange of ideas that will enrich your big day.