When it comes to planning your big day, no detail should be forgotten. A complex wedding day protocol often requires more help than you originally planned, so that every guest gets the attention they deserve and leaves happy and full of positive impressions. Being prepared for surprises can be a challenge for newlyweds who find themselves in immense excitement. We are ready to help you organize your wedding, and just how interesting a location Serbia is when it comes to weddings and how the wedding industry is developing, you can read HERE.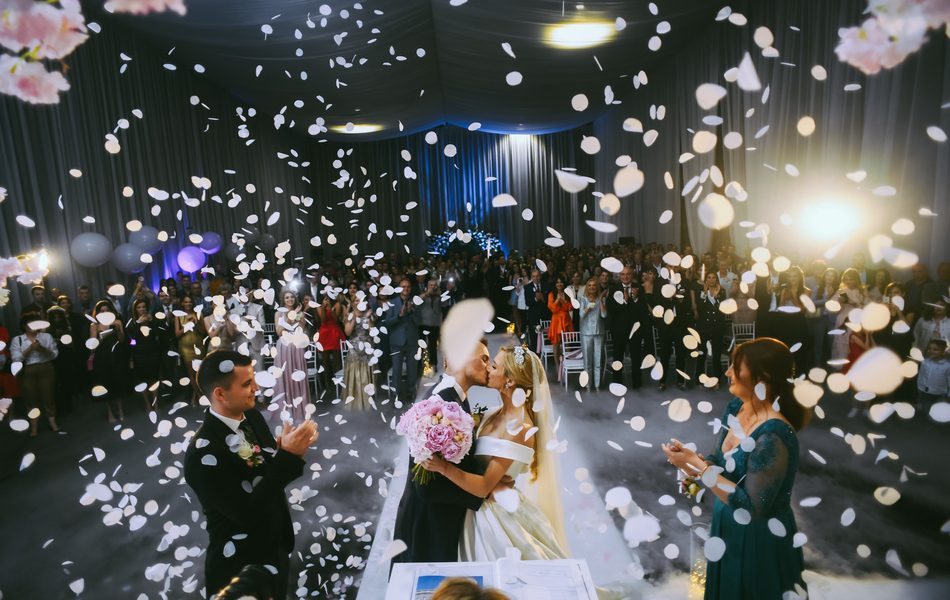 Why organizing a wedding is a demanding endeavor?
Weddings are the most complicated undertaking to organize compared to all other types of celebrations. The inability to have a rerun creates additional tension, and every couple has high expectations while they also feel a substantial burden of responsibility.
Finding space, choosing food and drinks, hiring the best band, photographer, cameraman, entertainer, innovative decorator or quality pastry chef… All of these need to come together into a whole that will create the impression of a perfect team play.
What are your priorities when organizing a wedding?
Some parts of the wedding, such as a reliable venue and a great band, as our many years of experience have taught us, leave no room for compromises. In addition, the main task is to make a list of topics that are crucial for you as a couple. Knowledge of each segment of the organization has proven to be a good practice, as it brings peace to the newlyweds and provides additional reassurance that everything will go as planned.
How long does it take to plan a wedding?
The average wedding preparation time is getting longer every year. About ten years ago, that average was six months, and today it's getting closer to one year of planning. On the other hand, we had cases of an entire wedding planned in nine days, but also one where planning took two years. It's important to have support, as it makes things much simpler.
The choice of a venue and band have become the most intensive task at the beginning of the planning. When you have a good foundation, everything else can follow in at a calmer pace, so you can enjoy the planning process with all the details.
The guest list is also made immediately at the beginning, due to the selection of adequate space. It's good to know that 10% to 15% of guests don't usually come, so everything can be planned more concretely.
When is it okay to notify the guests of the details of the wedding?
Are you one of those people who likes last-minute calls to big events? We believe they are not your guests either, so invitations are best forwarded as soon as you schedule a date, a registrar's appointment or a church wedding and space. We are increasingly proposing that SAVE THE DATE be done immediately and concrete invitations a little later. Early planning will be especially useful for guests from abroad.
Budget is crucial for wedding planning. Many jokingly say that the wedding budget is similar to that of building a house – an additional 30% of the planned figure. Of course, this shouldn't frighten you or discourage you. You can still play with your budget in ways that will guarantee you savings (change the menu, find another cake supplier, or change the creative décor). The price to quality ratio, i.e. the value for money, always applies, and is the most important aspect to take into consideration when it comes to the budget.
Important wedding planning participants
All participants are important, as it is important to know that the entire day can depend on the seemingly "smallest link in the chain". If, for example, the bride doesn't like the bridal bouquet, a lot of effort was wasted for nothing. If the guests' transportation can't reach the venue smoothly, the guests' first wrong impression will be hard to fix…
01. &nbsp
Comfort and the possibility of a pleasant atmosphere are the basics of a venue that meets everyone's expectations. Price, service, flexibility in changing the menu, visual style, what is included in the price besides food and drink, communication, responsibility and more are just some factors deserving attention.
Your mood and communication depends on your wedding fun and therefore absolute comfort is important. The flaws of a place, however, can turn into opportunities if they know each other and see each other in advance. Also, accepting that the ideal place does not exist is of great importance, but the offer on our market is very good and usually corresponds to the price-to-quality ratio.
02. &nbsp
Apart from the photographer's style, which is the key criterion when deciding who to hire, it's quite important to meet the photographer face to face before the wedding. The photographer will be with you throughout the day, and feeling comfortable and trusting him/her are important factors, besides the photographer's ability to make you feel at ease. The price range is difficult to determine because it varies quite a bit.
03. &nbsp
"You get what you pay for" is just one saying passed down from one generation to another amongst our people. The central theme of any good party requires a high level of engagement. The advice is to avoid a band that offers the possibility of song requests, and to stray away from bands with narrowly profiled repertoires if you have guests with different music tastes.
The number of hours per gig, business policy, song list, price, dress code, experience and musical style are just some factors to take into consideration when choosing. We also recommend that you watch/listen to the band performing live, as presentations on the Internet often differ from real-life energy.
04. &nbsp
For many brides, this factor is the most important one. Sometimes the interest in decoration takes precedent over everything else even at the very beginning, meaning that questions related to this segment can often come up before the first meeting. The unwritten rule is that the bride is more involved in decoration and flowers, while the groom is more focused on food and music.
When decorating, it is important to consider the space, because sometimes it is not in accordance with the desired style. The fact that good décor can affect the quality of the venue cannot be ruled out. However, this approach requires much more effort and energy.
The creative approach can also compensate for the budget deficit. The advice is to start with the most visible, central details, such as the photo corner, the head table and the podium.
In recent years, our market has become increasingly open when it comes to decoration, providing more possibilities, and the novelties for the next season are carefully planned. But in the end what's "trendy" is what you like!
05. &nbsp
Rehearsing makeup and hairstyle has become an absolute must. The work you see on social media doesn't have to be as ideal as you expect. Corrections are only possible if we act on time. The demand is high, so don't be surprised that many are booked months in advance.
We recommend that the makeup artist and hairdresser come to the location where the bride will be getting ready to avoid possible traffic jams. Feeling peaceful is necessary for the beginning of the most important day.
06. &nbsp
A civil wedding can be organized on the premises of any municipality or a registrar can "come to the venue", an option that is increasing in popularity. Bookings usually open in December for the coming year. Don't forget the fees you pay, as well as the fact that the best man and the maid of honor are required to have their IDs on the wedding day. 🙂
07. &nbsp
Bookings for church weddings, similar to registry books, open at the end of a year or the beginning of the next. Depending on the church, weddings are scheduled for half an hour or a full hour. The ceremony lasts approximately thirty minutes. During lent periods, no church weddings can be organized, so it's necessary to check all dates for the desired year before booking. Church weddings don't take place on Wednesdays and Fridays either.
Accommodation for out-of-town wedding guests
08. &nbsp
This is just one of the important logistics topics. It's a good idea to recommend hotels and places to stay if these are not part of your planning. By choosing to accommodate guests in fewer locations, you enable higher quality transport logistics, as well as the organization of other segments. Arkadia has partnered up with various hotels and offers special financial and organizational incentives in certain hotels.
Having an extensive selection of world brands, as well as many domestic designers, is definitely an advantage when choosing a wedding dress, and these vendors claim Serbia to be one of their favorite destinations. It's necessary to book bridal shop appointments, since choosing a dress is a process that may take time.
More and more attention is given to groom suits. It's imperative that the entire visual identity of the groom be matched to the wedding dress and the bridal bouquet. We sometimes suggest hiring a professional stylist who can assist in the selection.
The wedding protocol also implies certain customs that have been a part of our tradition for many years. The symbol of an apple, buying the bride, groom's second witness at the ceremony, pinning on a boutonniere on guests, bouquet toss, first dance, wedding cake… These are all time-consuming parts of a wedding, so it's important to plan your schedule well.
A detail that will make the guests happy is a nice prelude to joy. Shot glasses with brandy, jars with jam or honey, gingerbread, sweets and lollipops, macaroons… We recommend that gifts should be of practical use. An increasingly common choice are personalized handheld fans during the summer months, small houseleek pots, wedding magnets…
Don't be afraid! You don't have to do everything on your own. Professional wedding teams will offer the best solution according to your wish list.
We can do the entire planning. The quality of communication, adjustments to realistic possibilities, weather and market situation are some of our tasks. We can take on and carry out partial planning or create a protocol and coordinate all the elements of your wedding.
Because of the complexity of this topic, we have also created a training for the planning of weddings where you can learn about all the integral steps if you want to do it all by yourself. If you are planning an outdoor wedding, you can read our tips HERE.
What can you expect from the Arkadia wedding planning team?
We are in charge of finding the right restaurant/venue/hotel according to the number of your guests, your budget and the overall theme of the celebration. We will manage communication with the restaurant regarding the menu selection and changes thereof, selection of drinks, prices, table layout and seating arrangements, all the while carefully monitoring the celebration and making sure everything goes according to the original plan.
We will book the wedding in a church or municipality building, organize the registrar's arrival to the location and offer advice on the necessary documents, as well as any other important details.
We are committed to finding the perfect wedding band, for your perfect day. We work with many bands that specialize in weddings. Together we will choose the playlists, windows of time, breaks, a song for your first dance, the wedding cake… We can reach out to popular singers and their managers, chamber orchestras or solo performers of your choice. We can also hire additional performers such as a DJ, quartet, trumpeters, harpists, violinists, accordion and tamburitza musicians…
We advise on how to create invitation cards that fit your personal style. Our designers will incorporate your wishes fully. We will suggest the writing, organize mailing and help with the mailing list. We also offer the option of online invitation cards, which are increasing in popularity.
We will arrange for a limousine for the newlyweds on the day of the wedding, transportation for your guests from the airport to hotels or restaurants in buses or minivans.
We'll make sure you have everything you need to shine bright, like a diamond. From wedding dresses and suits, to makeup artists, pedicurists, hairdressers…
We will recommend pastry chefs who make quality cakes, for weddings or otherwise, and sweet tables, and who guarantee delivery at the agreed time. Just imagine ice-cream at a summer wedding…
We will help you find a creative photographer and cameraman who will make sure that all of your favorite memories are captured.
We'll also organize special effects, fireworks, first-class lighting, fog machines and so on.
All kinds of wedding decorations are our specialty.
Not only will we find the best suppliers and handle all necessary negotiations with them, but we will also ensure they cooperate seamlessly, closely monitor their work and handle payments after the wedding is over.
We will prepare according to your needs and wishes a complete wedding protocol , and we will provide a full-day supervision with multiple planners that will be our biggest present to you: a stress free day.
Through several months' worth of communication, we'll keep you in the loop on all the upcoming steps so that you can enjoy the process, and we will point out any shortcomings in certain ideas or choices in order to prevent any mishaps.
On the day of the wedding, we will take care of everything agreed upon and we will oversee the day and all its segments, the mood of your guests, the weather and any unexpected situations. Let us take charge of your big day so that you can feel like guests at your own celebration!